"Keepers"
Antiques and Fine Collectibles
Bought and Sold

Helen Eaton

Res. Phone
(219) 769-5357
Visit "Keepers" in The Old Town Square Antique Mall, where you are sure to find favorite items from your childhood.

At Booth 71 you'll see unique glassware, advertising memorabilia, campaign buttons of the past, and other special items that bring back glimpses of days gone by.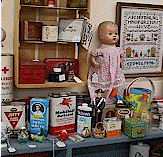 Available at this booth:
- old campaign buttons
- glassware
-general line of smalls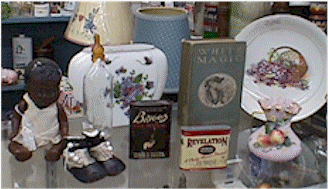 Pictured here are just a few of the unique and fine specialties available at Booth 71. If you are interested in ordering an item by mail, contact the dealer at keepers@mail.icongrp.com and please specify Booth 71.
.
The Old Town Square Antique Mall
Downtown Crown Point, Indiana
103 West Joliet Street
(219) 662-1219

Hours: Monday-Saturday 10am - 5pm
Sunday 12pm - 5pm