Cedar Lake adopts new 2001 budget
Wage increases await further passage of salary ordinance
By Sandi Radoja
Star Correspondent
CEDAR LAKE - Final adoption of the 2001 budget took place at Tuesday's Town Council meeting, but no salary increases are effective despite provisions in the new budget until such time a salary ordinance is passed, according to town attorney David Austgen.
"Until you adopt a salary ordinance, no increase occurs," Austgen said in response to Councilman Robert Carnahan's inquiry about the provision for increased salaries.
Bids on the sanitary sewer rehabilitation project Phase II-B were opened. United Survey, Inc., of Cleveland, Ohio was the apparent low bidder at $1.6 million, nearly $900,000 less than the engineer's original estimate. The bids were taken under advisement. Bonar Group is expected to review them and make a recommendation at the next Council meeting.
Finally, Austgen advised the council it could be another two weeks before an Agreed Order is in its final form, signed, and accepted by the Indiana Department of Environmental Management and town officials. The document when approved is expected to end a long period In which development has been hindered due to a ban on sewer connections in town.
Once all proceedings regarding the Agreed Order are complete, Cedar Lake is expected to receive as many as 200 new sewer taps, paving the way for future development. Austgen said a realistic time frame for receiving the taps could be as early as November.
Finally, Bonar Group was given authority to proceed with the modification of equalization basin drawings to include a concrete bottom. "IDEM's approval was based and predicated on a concrete bottom design," said Josh Lantz of Bonar. "It will increase the cost."
END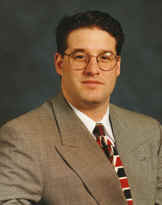 photo from www.state.in.us

Politics an elementary subject
State representative Kuzman visits local grade schools

By Andrew Steele Star Managing Editor

Fourth-graders at six area elementary schools received a lesson in the operation of the state legislature during the past week, and had a chance to ask local State Rep. Robert Kuzman questions about his job.
As part of the National Conference of State Legislature's "Back to School Day," Kuzman (D-Crown Point) went to St. Edward and Oak Hill elementary schools in Lowell, Solon Robinson, Timothy Ball and Winfield elementaries in Crown Point, and Hebron Elementary School.
Kuzman urged the students to vote when they reach the age of 18, and to stay in school. He told them not to believe that legislators don't listen to constituents, or that they always do the bidding of special interest groups.
Kuzman also told the students, who are studying Indiana history this year, about how laws are made, and the need for compromise.
"You're not going to get everything you want," he said. "If both parties are not happy you know you've got a good piece of legislation."
Kuzman talked about the committee process, and about the power of the Speaker of the House, John Greg, who "sort of looks like Santa Claus."
He also encouraged students to apply to be pages when they reach middle school.
"You get to miss a day of school," he said, drawing a chorus of yeses; "but you still have to do your homework," he added, drawing dejected nos from the groups.
The students at Solon Robinson were interested in Kuzman's age - 33 - and how much state legislators earn - a little over $11,000, plus $100 per day while the legislature is in session, and $25 per day when it isn't. One student asked if Kuzman would ever like to president of the United States.
"I would like to be the president, but I don't think I'll have the chance to do that," Kuzman said. But "maybe governor someday."
At Oak Hill, one student asked about the possibility of year-round school. "We're happy where we're at right now," Kuzman responded.
Another asked about what bills Kuzman has written. He said he sponsored legislation on brownfield-cleanup and the removal of part of welfare burden from property taxes.
Kuzman also told the students his job wasn't easy. "There are very tough decisions you have to make in a very short period of time."
Kuzman is nearing the end of his second term as the 19th district's state representative. He faces Republican Ron Johnson, Jr., in the Nov. 7 general election.

END
Crown Point approves final budget ordinance
Tax rate of $5.85 per $100 assessed valuation built into plan
By Andrew Steele
Star Managing Editor
CROWN POINT - The City Council gave final approval Monday to a 2001 budget that details $14.5 million in potential spending for the upcoming year.
The budget includes a tax rate of about $5.85 per $100 of assessed valuation, though the actual tax rate is expected to be more than $1 less. The inflated rate is a standard practice that covers for the possibility of a low total assessed valuation.
Property taxes go mostly to pay for the $8.3 million general fund, which funds the various city departments.
Last year's general fund was $7.7 million. The largest departmental increase was in Parks and Recreation, which grew 21 percent to $524,063.
Much of that growth was in salaries, with the addition of a $30,000 assistant parks director and a $26,000 "special salaries" line item.
Another significant jump was in the City Hall-Civic Center budget, which increased 14 percent to $71,502. The extra $10,000 is budgeted for increased security - essentially, installation of bullet proof glass - in the clerk-treasurer's office.
The Legal Department will see a 15 percent increase in its budget to $114,631, mainly to increase the money in the "additional attorney" line item from $7,500 to $20,000.
Much of the budget - about $6.2 million - consists of a variety of special funds that have a variety of funding sources.
Among those funds are cumulative funds that allow the city to save money from year to year for expensive projects.
The 2001 cumulative capital improvements fund includes $86,656 split between four projects: curb and sidewalk construction, the 50/50 sidewalk program, Hub Pool renovations, and park grounds and equipment improvement.
The cumulative sewer fund of $425,280 includes $300,000 for the Beasor Valley storm sewer project, as well as money for miscellaneous sewer projects and drainage discharge permitting.
Hub Pool renovations are also included in the $183,576 cumulative capital development fund, which also allocates money to the Sportsplex at the old water plant on East North Street.
The city's share of casino boat tax revenue is also included in the budget. The half-million dollars expected for that fund is allocated for the Beasor Valley project and curb and sidewalk construction on Indiana Avenue and Summit Street.

END